British Columbia's vast Vancouver Island is directly north of Washington's Olympic Peninsula. It is one of the great hotbeds of sasquatch encounters in the Pacific Northwest. It is large -- larger than Vermont, New Hampshire or Belgium. The "island" is more like a peninsula, almost connected to mainland British Columbia in the north, separated by a relatively narrow channel that allows large mammals to cross such as elk, deer, bears and sasquatches.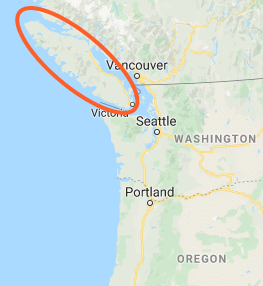 Nearly all of the BFRO's prior expeditions to the island yielded Class A and B encounters.

The 2023 BFRO expedition on Vancouver Island will be led by Alex Solunac of the University of Victoria.

He will have a scientifically structured expedition, instructing the participants during the day and organizing them to gather data and quantitative observations during night hikes in areas where they anticipate activity.

You don't have to be a scientist to attend this expedition, but you should be willing to assist the scientists who will attend.

Alex writes:

"The main purpose of this expedition is to build Sasquatch research capacity on Vancouver Island. Attendees will participate in active and passive searches during evening hours and in afternoon workshops.

Workshop topics:

- The History of Sightings on Vancouver Island (Alex Solunac).

- The Three Misses of Sasquatch Research (Dave Hill)

- Bigfoot Brunch (Stephen Gray, Botanist)

- Organizers will give preference to attendees who have:

1) MSc or PhD degree in Anthropology, Botany, Genetics, Biology (Wildlife), Entomology, Primatology, Geography, Ornithology.

2) First Aid training

Attendance will be limited to 20.

The target location is in a remote part of the island. Attendees are recommended to have vehicles equiped with AWD or 4WD and with a minimum of 6 inch clearance.

Extra gas will be required (20 Litres minimum) as the nearest facilities will be 2-3 hours away.

If you are interested in attending this expedition, please read the Expedition (FAQ) page and follow the instructions listed there.