Geographical Index > United States > Washington > Klickitat County > Report # 75404


(Class A)
Submitted by witness Chuck Adkins on Monday, January 16, 2023.
---
Kayaker describes daylight sighting on river near town of White Salmon
---
(Show Printer-friendly Version)
YEAR: 2019
SEASON: Summer
MONTH: July
DATE: 10
STATE: Washington
COUNTY: Klickitat County
LOCATION DETAILS: White salmon river south of mount adams

[Investigator (MM) Notes: GPS coordinates for the spot where the sasquatch crossed the river: 45.777662, -121.518858]
NEAREST TOWN: White Salmon Washington
NEAREST ROAD: Hwy 141
OBSERVED: On July 10, 2019, after whitewater rafting on the White Salmon River in Washington State I observed an extremely tall hominid walk across the river.

I would estimate it's height in the 7 ft 6 inch plus range but it was skinny.

I was resting after rafting and hiking in approximately 1 mile down a trail. This is a calmer stretch of the White Salmon River watching other kayakers go by occasionally.

Here the river is usually no more than 2 ft deep. After a period with no kayakers, about 30 mins, I watched what I can only describe as a Sasquatch or Bigfoot walk out of the woods about 80 yards away on the opposite side of the river and cross the river.

It was coming slightly in my direction as it crossed. I was startled (terrified) and had my camera phone on me but realized I could not open the camera app likely in time to get a pic or video, so I observed it closely for the dozen or so seconds it took to cross the river.

As I said, at least 7.5 ft or taller, based on the fact that I could see its head at or above the trees on the riverbank that it went though.

The hominid was covered in very black hair, with noticable bare areas across the chest and hip area. Also less hair under the armpit.

The hair on its head was also black and looked very much like shorter dreadlocks.

I could see the nose and lips (very humanlike) but not the eyes. It crossed the river not in a great hurry, but just like wanted to get out of the open.

I believe it saw me at its closest approach (about 50 yards) because it turned its body slightly in my direction and that is when I could see the face, nose, lips.

It crossed the river, went through the trees, and then I could hear it going up a large embankment.

I was shocked and had an almost overwhelming sense of fear and would not talk about it for a while.

I talked with an old timer lady in the area. She was confident I had seen one of their "teenagers" They're tall and skinny just like ours she said.

________________________________________________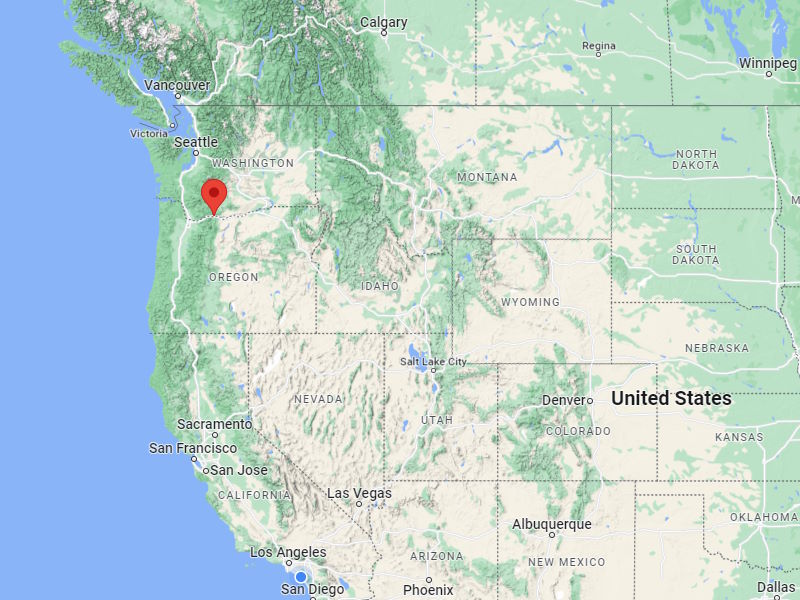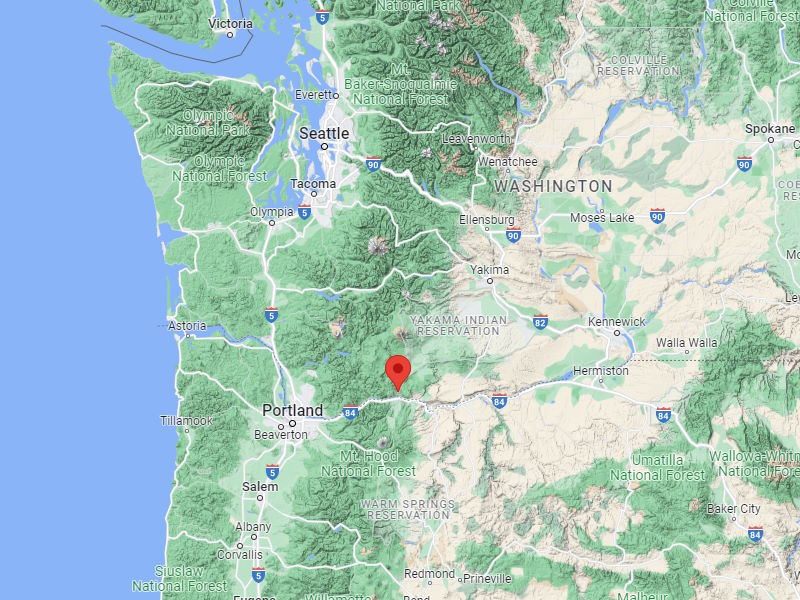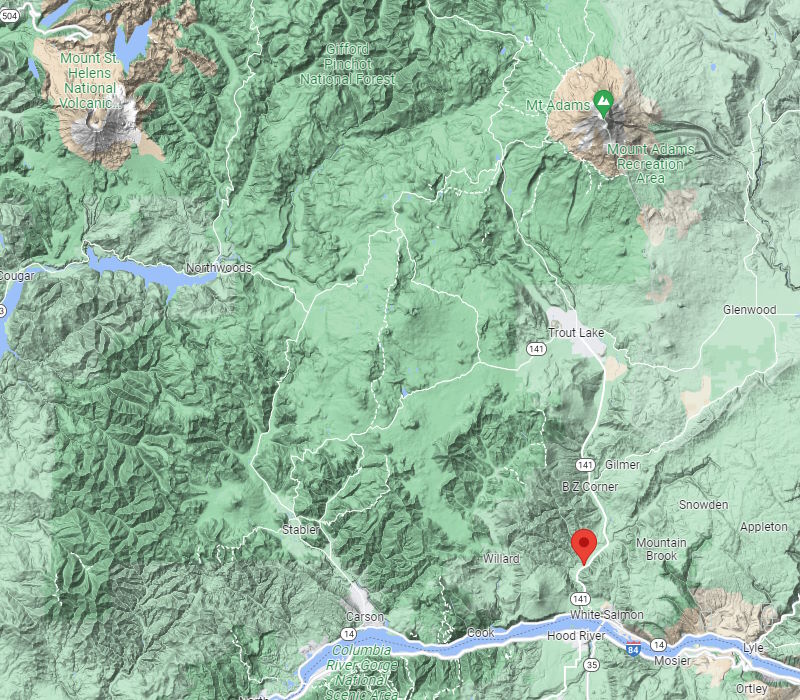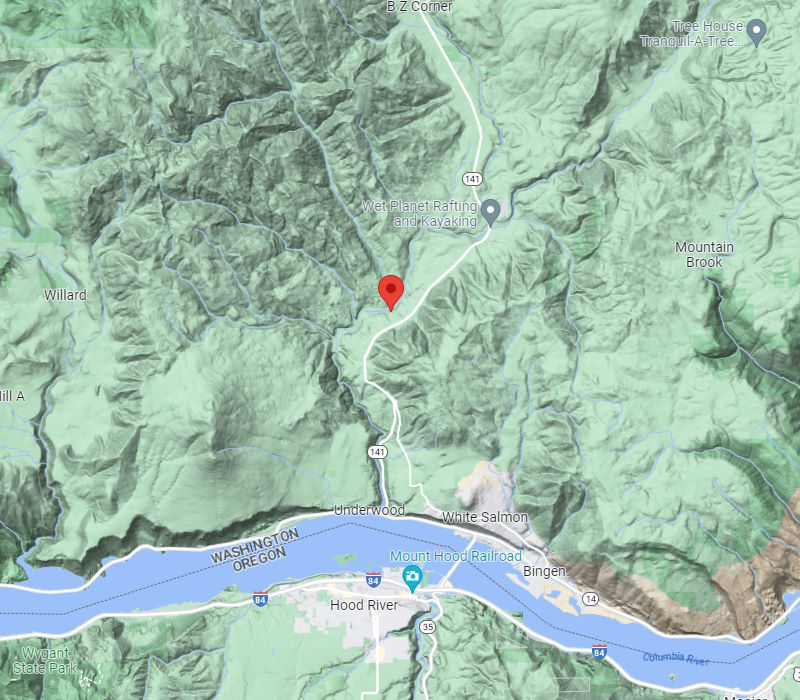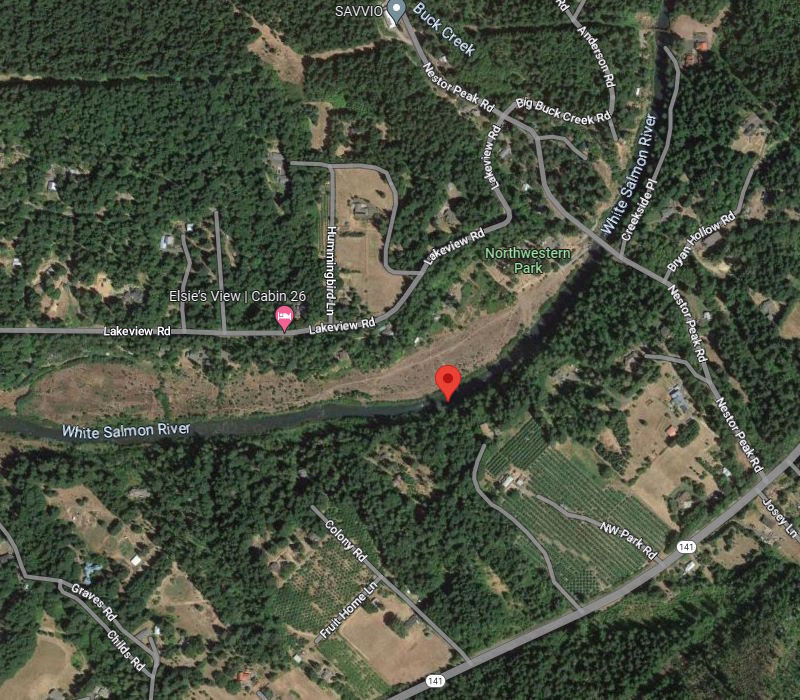 OTHER WITNESSES: My buddy was with me, but he did not witness as he was 25 yards around the river bend and could not see it
OTHER STORIES: This is a well known area for sightings, between Mt. Hood, St Helens, and Mount Adams. The next day I went exploring lava tubes like Layser Cave and Ape Cave, long time reputed sasquach lairs.
TIME AND CONDITIONS: approx 3pm, overcast, cool weather
ENVIRONMENT: Pacific Northwest dryer rainforest. mountainous, lots of creeks and rivers
---
Follow-up investigation report by BFRO Investigator Scott Taylor:
This witness has college training in biology. He used to work as a biologist at Denali National Park in Alaska. He knows what all the common animals of Washington State look like, especially bears.

He and his friend JJ were enjoying a day of kayaking on the White Salmon River between the community of Trout Lake and the town of White Salmon. The White Salmon River flows south from Mt. Adams to the Columbia River.

The first part of the day was kayaking with a guide service on the upper portion of the river where the rapids are challenging. He said that after that they were very tired. They drove south to a place where JJ knew they could park at a trail-head and hike in a mile to the river.

The river in this area, within three miles of the town of White Salmon, is much calmer and more relaxing.

They were paddling down the river when JJ had to "take a business call." They pulled off to the west side of the river. JJ went around some bushes about 25 yards away and out of sight to make his call.

The witness was just sitting quietly, watching the kayakers and rafters go by. The last kayaker had passed about thirty minutes ago, when a sasquatch waded into the river from the east bank and crossed to the west side.

The witness watched it in shock and disbelief as it crossed. Even though he had his phone with him, it was not turned on. There was no time to do so. So he watched intently as it angled across the river coming closer to him.

It started out about 80 yards downstream, and was only 45-50 yards away when it reached his side of the river. It noticed the witness and turned its head and shoulders to look at him as it hurried into the riverside brush and up the bank and out of sight.

Description. The creature had black shiny hair about 2-3 inches long. The hair was thin or missing under the arms. The hair on its head looked like short dreadlocks.

The witness said that when it turned to look at him, he got a good look at its face. There was no sagittal crest. It had heavy, protruding brow ridges that shadowed the eyes, so he couldn't see them.

Its nose was not flat like a primate. It was more like a human nose. It had very broad shoulders and a narrow waist. He said it was skinny as a human teenager might be. Estimated to be around 250 lbs.

As it passed through the riverside brush he could see the head above the brush, so he estimated it to be 7 ˝ feet tall. He felt that based on its stature that it was a young adult male.

The witness said that the shock of seeing a sasquatch was so upsetting that he was in terror. He realized that if it wanted to harm him, there was nothing he could do to escape. He said that his friend was a skeptic and not responsive to hearing about it, so he didn't tell him until much later. He said that he couldn't talk about it with anybody for six months. It was just too disturbing to him.

I found this witness to be a thoughtful and articulate person. He is very experienced with wildlife, so he would unlikely misidentify what he saw.


---
About BFRO Investigator Scott Taylor:

Scott Taylor is a retired aerospace manager. He lives in Mason County, Washington. He had his first bigfoot encounter in October 2005 where he was stalked and later heard vocalizations. He attended official BFRO Expeditions in the Washington Cascades in 2006, 2007, 2008, 2009, 2010, 2011, 2012 and 2013. He also attended the 2007 BFRO Expedition in the central Oregon Cascades and the 2007 Utah Expedition in the Uinta's. He attended the 2008 and 2009 Olympic Peninsula Expeditions and co-lead the 2013 Expedition. He has participated in numerous speaking engagements over the past 17 years.
---
Please send any comments or inquiries to ContactUs@BFRO.net