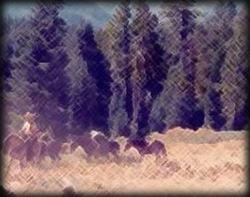 The Bigfoot Recordings,
Volume 2
Never-before-published recordings of sasquatches interacting with man
---
Background
Many people are already familiar with the Sierra story, as investigated in 1972 by Alan Berry, then a reporter for the Redding, California, Record-Searchlight. Berry hiked into a remote deer camp in the High Sierra Mountains of California where hunters had reported encounters with bigfoot-like creatures. He was able to capture tape recordings of the creatures? emotion-packed, wholly inimitable chatter and vocal demonstrations. These recordings later became the subject of a year-long University of Wyoming-based engineering study to determine their authenticity and to understand the nature of the vocalizations relative to those of humans and other primates. The results of that study were published by the University of British Columbia Press in 1980 in ?Manlike Monsters on Trial,? an anthology of professional papers presented at a 1978 UBC-sponsored symposium entitled Anthropology of the Unknown. The study concluded that the unusual vocalizations were primate in origin, and that at least one of the voices exceeded normal human ranges. Although the study did not rule out the possibility of human source, it established that the vocalizations were spontaneous at the time of recording and that there was no evidence of pre-recording or re-recording at altered tape speed. These recordings are available on tape and CD as ?The Bigfoot Recordings?.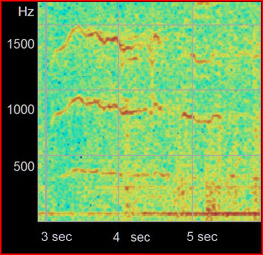 A spectrograph of a portion of a newly released 1974 recording. In the segment depicted here, the subject makes a falsetto-like call.
Subsequent Encounters & Recordings
Following Alan Berry?s 1972 visit to the remote camp documented in the original ?Bigfoot Recordings? production, Ron Morehead, a Mariposa, California businessman and hunter, had additional encounters in the same deer camp area when he returned in later years. In the fall of 1974, he captured new and equally compelling vocalizations. These historic tape recordings are now published for the first time in a CD presentation ?The Bigfoot Recordings, Volume 2.? The story is told both as it happened and with additional background narration by Ron Morehead. Although these sounds and those recorded by Alan Berry bear similarities, the voices of Ron?s recording seem much less tentative and more evolved--strikingly upbeat in tone and startling in their almost-but-not-quite human-like character.
For more information about this fascinating story, visit the Sierra Sounds site.