Geographical Index > United States > Washington > Skamania County > Report # 1705


(Class A)
Submitted by witness Richard Noll on Thursday, February 8, 2001.
---
BFRO Skookum Expedition
---
(Show Printer-friendly Version)
YEAR: 2000
SEASON: Fall
MONTH: September
DATE: 17th - 23rd
STATE: Washington
COUNTY: Skamania County
LOCATION DETAILS: Exact location of expedition activities and evidence are being withheld from the general public to reduce chances of site contamination.

Location is between Mt. St. Helens and Mt. Adams, NW of Indian Heaven Wilderness near Skookum Meadows.
NEAREST TOWN: Carson
NEAREST ROAD: Wind River Rd
OBSERVED: Most if not everything has been logged in a report written by Dr. LeRoy Fish concerning the expedition activites and collected evidence.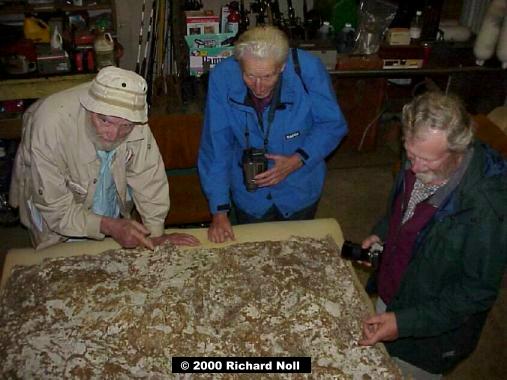 ALSO NOTICED: Prior to this expedition, the BFRO was active in the immediate area several times in 2000. This area is where hair was collected in June and it is also where 87 trees were found damaged in May.

It should be noted that precedence was set in 1989 in the use of olfactory attractants. Below has been posted an article detailing an experiment carried out in the USSR using ape pheromones to attract what they term a Snowman.

It should also be noted that the finding of a body imprint has been discovered in the past as well; at least five recorded accounts can be found in literature and will be sited in the future for reference. Only one other of these incidents involving imprints other than hand, knuckle and feet of a Sasquatch was documented, though haphazardly.

A full cast of the scene has never been done before and allows one to read some behavior of the animal.
ENVIRONMENT: The area is typical forested terrain for the region. The landscape has logged off areas, mulitple FR roads and is home to an Elk habitat, closed off to the public. There was a logging operation going on about 15 miles distant with a full time caretaker and his wife spending 8-9 months there a year. They reported to us an event that may be related to the Sasquatch while the wife was picking huckleberries a few years back.
A & G References: Pg. 34, D1
---
---
Related Media Articles:
---
Please send any comments or inquiries to ContactUs@BFRO.net