Geographical Index > United States > North Dakota > Article # 369
Media Article # 369
---
Friday, March 19, 2004
Bigfoot reports - Number of sightings surprises researcher
By Eloise Ogden
Minot Daily News

---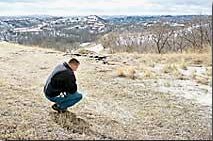 Eloise Ogden/Regional Editor
Kelly Berdahl, of Bozeman, Mont., a field researcher for the Bigfoot Field Researchers Organization, checks a site off N.D. Highway 22 southwest of Mandaree where two local residents reported sighting a Bigfoot last month. Berdahl is gathering data about sightings on Fort Berthold Reservation.

- Kelly Berdahl came to the Fort Berthold Reservation Wednesday to gather data about Bigfoot sightings in the area.

He went home with a bundle of details.

Berdahl, a member of the Bigfoot Field Researchers Organization, said a lot of people came to talk to him about encounters or possible encounters.

"I was surprised. It was like the floodgate opened," Berdahl said. "I figured there would be just two or three."

Several recent sightings of Bigfoot in the New Town and Mandaree areas prompted Berdahl's trip from his home in Bozeman, Mont., to the reservation this week.

As Berdahl sat in the chambers of the Three Affiliated Tribes Administration Building west of New Town Wednesday morning, people filtered in. They listened to others telling about incidents and, in turn, related their own incidents. The incidents ranged from recent reports to memories of past years.

Phyllis Lincoln told Berdahl about a time years ago when she and her sisters were driving home to Twin Buttes one night. They saw a large upright animal arise from the ditch, step over the fence and disappear. The girls quickly drove home to tell their parents.

"As soon as the lights hit the ditch, it stood up. We pulled right out of there," Lincoln's sister, Michaela, who was driving, told Berdahl.

Lincoln, 47, said she and her sisters seldom talked about the incident until recently. "Who would believe us? We were teenagers then," she said. Both Phyllis and Michaela said they would never forget that night and what they saw.

Lorry Little Swallow, Mandaree, said she and family members were hunting about two years ago and were pulling a deer out of a ravine. They heard an extremely loud bellering or roaring-type noise unlike any other, and it echoed throughout the area. She believes it was a Bigfoot. Another time she said one of her sons saw a Bigfoot-type animal on a road in the Mandaree area.

Berdahl, who has North Dakota ties - he was born in Dickinson - has been a member of the researchers organization for about five years. It has more than 3,000 members worldwide.

He said a limited number of members are researchers who have special training in the work and are called to areas of sightings, like Fort Berthold, to gather details.

Researchers interview eyewitnesses and others, and also visit the points of sightings, he said. He said those who wish to have their interviews remain confidential can do so.

Berdahl's father, Orlie Berdahl, also of Bozeman, was along with his son, helping with photography and listening carefully to the interviews.

Kelly Berdahl said the information he gathered Wednesday will be used for future reference for researchers. He said that data helps compare the Fort Berthold sightings to other sightings.

"It goes into our investigators' database. The ultimate goal is to say they exist," he said.

Some visiting with Berdahl Wednesday provided him with the names of others they felt he should contact who had either heard or seen a Bigfoot.

Some people just wanted more information on the subject from him.

Berdahl said there are misconceptions about Bigfoot. He and other research organization members have said people should not fear them and that these animals prefer to stay away from humans.

"There's a misconception in our society there's one (Bigfoot)," Berdahl said. "It's a species (usually) found in forested areas in our country." But he said as populations change with more urban sprawl, the animals will move to other areas.

A tribal elder, Judy Young Bear, whose Indian name is Bear Woman, said some tribal members view Bigfoot as a spiritual being.

"And we say when sighted, they come to warn us something is wrong in the close future," she said. When there was talk of Bigfoot in Alaska, she added, then the oil spill occurred, and when the animal was sighted in South Dakota there were forest fires in the Bear Butte area. She felt the sightings may be tied to the war in Iraq or the low levels of Lake Sakakawea.

Another tribal elder said his grandfather never mentioned anything about a Sasquatch, another name for Bigfoot. "He used to tell me a lot of things went on here, and all vanished and disappeared," the elder said.

Lincoln said her grandfather told his granddaughters not to be afraid of Bigfoot and that there have always been Bigfoot around here.

Later in the day, Corey Fox and Shannon Hale told about a sighting last month and that they saw the large-sized tracks which they believe were left by a Bigfoot. They tried to track it but were not successful, they said.

Fox and Hale said they and several other men went to the spot near the Lost Bridge area where two local men said they saw Bigfoot on N.D. Highway 22 the day before.

"I was still pretty skeptical," Fox said, as they started the search off the highway. "He (the animal) had a pretty good stride - 4 1/2 to 5 feet."

"I don't like to sound like crazy, but we saw what we saw," he said.

The average shoe size for male humans is 10 1/2-inches, but Fox and Hale said the tracks in the snow were much, much larger.

"It's a once in a lifetime thing - probably never again," Fox said.

Fox and Hale said they've had some ribbing from friends about their sighting of the large tracks, but they're taking it all in stride.

"I know what I saw," Hale said.

Berdahl visited two of the points of sightings, one in New Town and another in the Mandaree area, before leaving Wednesday.

"It looks like a pattern of things happening here," he said.

He said he hopes to return to Fort Berthold later in the spring to continue his research.
---
Bibliographical Information:
Regional Editor

---
Click here to view the original article
---