Geographical Index > United States > Oklahoma > Cherokee County > Article # 362
Media Article # 362
---
Wednesday, March 3, 2004
Bigfoot in Cherokee County?
By Eddie Glenn
Tahlequah Daily Press

---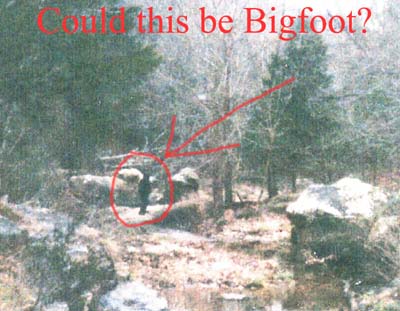 Here he is, in all his splendor! It may or may not be Bigfoot, but there is definitely a black thing that appears to be standing on a rock in the center of this creekbed, which according to the photographer's son, is in Pumpkin Hollow.

Bigfoot in Cherokee County?

First of all, let's be very clear about one thing: This is the Tahlequah Daily Press, not the Weekly World News. So we're not going to tell you that Osama Bin Laden and Elvis are both alive and well, and living in the woods of Pumpkin Hollow, just a few miles outside our fair city of Tahlequah.

Bigfoot, on the other hand, might be.

Several weeks ago, a young Tahlequonian who shall remain anonymous for the time being gave a photo to a Daily Press editorial staff member.

He said his mother had shot the photo in the Pumpkin Hollow area, and that it plainly showed what could only be identified as Bigfoot him/herself, right smack-dab in the middle of the picture.

After some investigation, we have to admit that the aberration in the photograph - while not clearly identifiable as Bigfoot - isn't really identifiable as anything besides Bigfoot either.

Of course, it could be a scratch on the lens of a camera, or a speck of dust on the film , or any number of other technical explanations. But we can't completely rule out the possibility that it just might, maybe - within the realm of all possibilities - really be a hairy, upright-walking creature that is commonly known as "Bigfoot."

If it isn't Bigfoot in the picture, what the heck - no harm done.

But if it is Bigfoot, or a variant thereof, it wouldn't be the first one sighted in these parts.

According to the Aug. 3, 1990, edition of the Tahlequah Daily Press, a Bigfoot sighting on the east side of Eldon Hill was reported to the Cherokee County Sheriff's Office on Aug. 1 of that year.

"We kind of shook our heads when we got the call, but the lady sounded serious," Jack Goss, then an investigator with the CCSO, is reported as saying. "She said Bigfoot was in her back yard. We thought she might have seen a bear, but she was really sure that it wasn't. She said it was hairy and stank really bad."

The story also cites then-and-now Cherokee County Undersheriff Dan Garber, who said several residents in the area had reported similar sightings, and that several calves and sheep had been reported missing in the area.

"I've known other areas to get calls like this, but this is the first time we've heard anything like this in Cherokee County," Garber said in the 1990 story.

On Monday this week, Garber said he remembered that incident fairly well.

"It caused quite a commotion for about a week," he said. "The people from the national Bigfoot organization called up and said, 'If you hear of any other sightings, let us know.'"

The national organization to which Garber referred is the Bigfoot Field Researchers Organization, and according to their Web site, the 1990 Eldon incident is a "Class A" sighting. According to that Web site: "Class A reports involve clear sightings, in circumstances where misinterpretation or misidentification of other animals can be ruled out with greater confidence. There are few footprint cases that are very well-documented. Those are considered Class A reports as well, because misidentification of common animals can be confidently ruled out, thus the potential for misinterpretation is very low."

The Web site also states that Cherokee County Sheriff's Deputy Joe Weavel investigated the sighting, and found foot impressions big enough to place both his feet in. It also states that two days after the initial report, an 8-year-old girl and her mother described a similar creature rummaging through a trash pile near their house.

"Their dog chased it but returned with its tail between its legs. The creature was described as 8 feet tall with dark brown frizzy hair and similar to a bear, except that it was described as walking upright," states the BFRO report.

Since 1990, there haven't been any other sightings - until now.

Of course, if Bigfoot really does live in the woods of Cherokee County, it seems reasonable to assume that the person most likely to see him (or her) would be someone who spends a lot of time out in those woods.

That someone would be Oklahoma Game Warden Brady May.

May, however, has never seen Bigfoot. But he has seen a couple of bears.

In fact, May said 1990 was during a several -year-long period in which bear sightings were common in Cherokee County. Most of the bears in Oklahoma are in the southeastern part of the state, but young males are often run out of normal mating areas by older, larger males.

"It's not uncommon for our department to go to an area where there's a nuisance bear complaint, trap it, and release it," said May. "It wouldn't be uncommmon for someone to see one around here."

Still, the 1990 Eldon Bigfoot sighting is (at least in Bigfoot parlance) a "Class A" event, and according to the BFRO Web site, " Several reports near this area [have been made] since the early '70s, also possible reports near Peggs, Okla., northwest of Tahlequah, Okla."

According to Garber, regardless of whether Bigfoot is a Cherokee County resident, the terrain is definitely conducive to such sightings.

"One thing that always seems to be consistent in these sightings," he said, "is they always seem to be in wooded areas where an animal could move around undetected. You don't get many sightings in Arizona, or Enid [Okla.] for that matter; I mean, how many Bigfoot sightings do you hear of in Enid?"

Learn more

The official Web site of the Bigfoot Researchers Organization is www.bfro.net. The page explaining the 1990 Eldon Hill sightings is #2041.
---
Click here to view the original article
---
Related Reports:
---