Geographical Index > Canada > Ontario > Article # 359
Media Article # 359
---
Thursday, January 1, 2004
Sasquatch talk draws a crowd
By Alumni Affairs staff
Guelph Alumnus: The University of Guelph Magazine

---
A longtime sasquatch investigator who studied wildlife biology at U of G drew a crowd of more than 350 when he spoke on campus in October.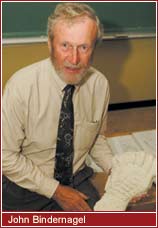 John Bindernagel, BSA '64, presented eyewitness drawings and plaster casts of tracks to make the case for the hypothesis that "there seems to be a North American great ape among us."He also discussed the nature of scientific inquiry and the resistance he's encountered to his ideas, dating back to his own undergraduate days at Guelph.

Bindernagel's Guelph host was zoology professor Jim Bogart, a U of G classmate during the early 1960s. Bogart, whose own recent work on a species of unisexual salamanders has raised eyebrows among mainstream herpetologists, said the lecture was a good addition to the department's fall seminar series.

"I think people should have an open mind," said Bogart. "I think students can listen to something and judge for themselves. That's what we train them for."

Bindernagel admitted that most scientists dismiss reports of sightings of large ape-like animals as mistaken identification of bears or as hoaxes. Others point to the lack of bones and other remains that would prove the existence of a North American great ape. But there is no question that Bigfoot is a topic of great general interest.

Although most sightings occur in the Pacific northwest, people have reported seeing Bigfoot-like creatures or tracks across North America, including about 30 accounts in Ontario. Bindernagel said reports have come from northern Ontario, the Bruce Peninsula and the Niagara Peninsula over a span of at least 20 years.

In 1998, he published a book called North America's Great Ape: The Sasquatch, which drew on more than 150 sasquatch reports.

Bindernagel's own interest was sparked while studying at U of G. When he asked a question in class about a sasquatch report, he drew laughter from his classmates and a curt reply from the professor. "He said: 'We're not going to talk about that.' We went back to wolves and moose and deer. That got my back up."

After leaving Guelph, Bindernagel earned a PhD at the University of Wisconsin in 1970. He has worked as a wildlife conservation adviser in East Africa, Iran and the Caribbean. Since 1975, he has been an environmental consultant in British Columbia and has studied sasquatch reports. He belongs to the Bigfoot Field Researchers Organization (www.bigfootbiologist.org ).

"I don't go around trying to convince people that the sasquatch exists," he said. "What I'm looking for is a forum to explain and tell the evidence we have and say this is worthy of scientific scrutiny."

He has never seen a sasquatch himself. In 1988, he found 15-inch tracks in Strathcona Provincial Park on Vancouver Island. In the photo, he's holding a plaster cast made from one of those tracks.

During his Ontario visit, Bindernagel also filmed a TV interview in Toronto for the Discovery Channel.
---
BFRO Commentary:
The url provided in the body of the text for the Bigfoot Field Researchers Organization is, of course, that of Dr. Bindernagel's personal web site. However, the article is correct in stating that Dr. Bindernagel is a member of the BFRO.
---
Click here to view the original article
---